Details

Published: Tuesday, 30 January 2018 09:50
Written by Lee-Ann Khoh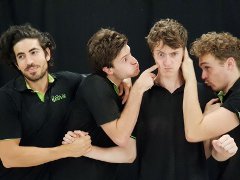 I didn't know what to expect when I walked into The Actors' Hub for the first time, but I was immediately welcomed in and invited to take a seat and have a drink.
A duo performed live acoustic songs in the foyer while we waited for the show – delayed slightly due to some technical difficulties – to begin.
The show was Mark Ravenhill's play Pool (No Water) – presented by The Actors' Hub as part of their 4x4x4 program for Fringe World.
4x4x4 features four actors (Nicholas Allen, Adam Droppert, Andrew Dunstan, and Christian Tomaszewski) performing four plays directed by Amanda Crewes over four weeks.
In Pool (No Water), they play a nameless group of pretentious, profane, drug-addled artists.