Details

Category: Day Trips
Published: Wednesday, 09 May 2012 10:35
Written by Vicki Sly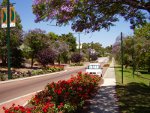 Let's face it; Perth is a very flat city in what you would consider a relatively flat state so we tend to get a bit excited about any type of bump in the landscape.
The Perth Hills along the Darling Range make a welcome change from the coastal plain and for visitors; they offer the opportunity to see the city from a slightly different perspective.
While Perth is a large sprawling city of suburbs, the hills are all about bushland, orchards, wineries, restaurants and art galleries with small semi-rural villages nestled in between, each with its own unique character.