Details

Category: Events
Published: Sunday, 06 December 2020 07:29
Written by Nita Teoh
l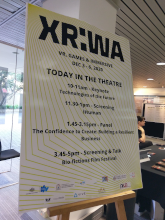 The State Library of WA at the Perth Cultural Centre has been abuzz with all things technology related - with the XR:WA 2020 AR, Games  and immersive conference and festival held from the 3 December to 6 December.

In its 2nd year running, the technology conference and festival is packed to the brim with immersive experiences, interactive games sessions, films and documentaries, keynotes and talks from leading experts about virtual reality (VR) and augmented reality (AR).

This year it has been made a free festival, and provides an excellent opportunity for those with an interest in technology to attend, along with the general public to gain exposure to what technology in the future might be like us for at the individual level as well as its impacts on our daily lives in the next decade to come – whether it be at work, at school or in our broader community.

Highlights of XRWA:2020 has been the Bio-Fiction Science Art Film Festival.