Details

Category: Arts & Culture
Published: Wednesday, 01 June 2016 13:05
Written by Nita Teoh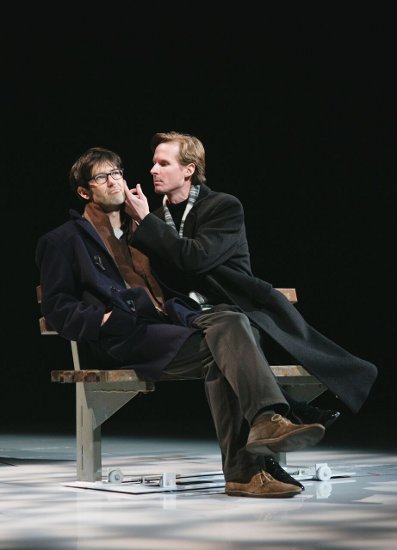 Will O'Mahony & Adam Booth in Angels in America
Photo Credit: Daniel James Grant and Black Swan State Theatre Company


The Winter Arts Festival is on again in Perth, and as part of the festival program, Black Swan State Theatre Company brings to life the all time classic Angels in America. So forget about staying home during our cold winter nights and head out for a great night's entertainment instead.
The play is set in New York City circa 1985, and follows the lives of two couples dealing with difficult times: gay lovers Louis Ironson and Prior Walter; and Mormon lawyer Joe Pitt and his wife Harper.
The first scene opens with a Jewish Rabbi officiating at the funeral of Louis' grandmother, after which Prior reveals to Louis the news that he has been diagnosed with the frightening new disease AIDS, which is a horrific death sentence in 1985. Louis fears that he will not be up to the struggle of caring for his sick lover, and so begins a sequence of events that will simultaneously intertwine and shatter the lives of the main characters.
Tony Kushner's masterpiece is as relevant today as it was when it first made its debut on stage in the 1990's, exploring the myriad of sexual, social and religious issues confronting people affected by AIDS back in a time when it was still viewed exclusively as a "gay men's disease".
Though advances have been made in medical treatments for HIV and AIDS, what hasn't changed is that we still face the challenges of the fragility of human existence and dealing with our own mortality, in a world of uncertainty that leaves us with fears and doubts about our future.
Strong performances were made by all the cast and as the play unfolded we were privy to the turmoil faced by each of the characters in the play.
There is the ruthless power broking lawyer Roy Cohn, who is a father figure to the up and coming Mormon lawyer Joe Pitt, and who is grooming Joe to move to Washington in order to save Roy from a looming investigation. Roy has been diagnosed with AIDS, but refuses to be categorised as a homosexual, instead demanding his doctor pronounce his illness as liver cancer.
There's Prior Walter, who is confronted by his illness and impending death, very much afraid that his partner Louis Ironson will leave him because he can't cope with the grim reality of Prior's deterioration. Louis flees from his lover's hospital bedside and takes refuge in walking around Central Park late at night, while he attempts to blot out his guilt and pain with casual sex.
Then there is Joe Pitt, a Mormon lawyer who wants to accept Roy's offer of a job in Washington in order to achieve a change for the better, but who is reluctant to leave his anxious, Valium addicted wife Harper who is struggling with her own demons…though more than meets the eye for Joe as it is not just career dilemmas that he faces.
Belize and Mr Lies – both played by Kenneth Ransom, provided a touch of light-hearted reprieve throughout proceedings. Kenneth Ransom's versatility is seen in the many different roles that he has played in past plays by Black Swan including Glengarry Glen Ross, Dinner, The House on the Lake and The Motherf**ker with the Hat.
Theatre goers can look forward to a powerful performance as Black Swan State Theatre Company brings modern day production values to Angels in America with another wonderful set and lighting design, while remaining faithful to the 1985 setting.
In our world of 2016 that is once again facing instability, uncertainty and intolerance, Angels in America remains all too relevant.
Angels in America is on till 19 June.
If you enjoyed this article, please share it!
Find out about the hottest events around Perth, by following us at @PerthWalkabout