Details

Category: Arts & Culture
Published: Sunday, 15 September 2019 07:15
Written by Greg Letts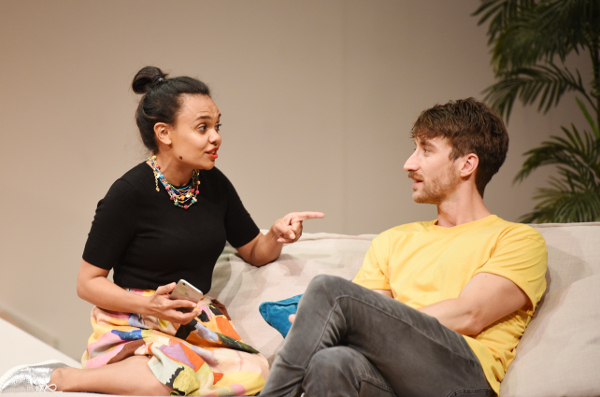 Miranda Tapsell (as Charlotte Gibson) & Tom Stokes (as Francis Smith)
Black is the New White
Photo Credit: Toni Wilkinson
Since the days of Shakespeare's Romeo and Juliet, star crossed lovers and their conflicting families have been a staple of theatre and film.  Nakkiah Lui's Black is the New White returns to this familiar theme, taking the race conflict of Guess Who's Coming to Dinner but reversing the typical power dynamic shown between Aborigines and Caucasians to great effect.

Charlotte Gibson is a rising Aboriginal lawyer from an upper middle-class family who has just won a high profile lawsuit which has left her exhausted and questioning the values of her upbringing. She has returned to the family holiday home with her new partner Francis Smith, a white Australian who composes experimental classical music and who scrapes by on his small trust fund allowance.

We start with Charlotte and Francis enjoying a few days of solitude before Charlotte's family and Francis' parents meet each other. Obviously in love, the pair are discussing Charlotte's future career options (compared to Francis' lack thereof), and getting ready to announce their engagement to their families. One thing leads to another and while they retire to the bedroom, they are unaware that Charlotte's parents, Ray and Joan, have arrived early. And so the chaos begins...

Without wanting to spoil the various twists and turns of Lui's excellent script, suffice to say that there is plenty of madness and mayhem as the Gibson and Smith families get to know each other over the course of the Christmas festivities. But will true love prevail in the face of the racial and fiscal divides?

Clocking in at just over 2 hours 30 minutes with a 20 minute interval, Black is the New White whizzes by breezily. It's fun, sometimes frantic, and chock full of laughs, while not shying away from examining the issues involved with race and class in modern day Australia.

For anybody looking for a warm, witty romantic comedy with likeable characters and a light touch when it comes to hot-button topics, Black is the New White will be just the thing. The cast and crew received a well deserved round of lengthy applause at the conclusion of their performance, and looking at the host of smiling faces as I left the theatre, they had good reason to steal an extra bow (or two!).

Black is the New White by Black Swan State Theatre Company is on at the State Theatre Centre of WA until the 22 September.
If you enjoyed this article, please share it!



To find out about the hottest events around Perth, follow us at @PerthWalkabout