Details

Category: Events
Published: Saturday, 19 July 2014 09:30
Written by Felicity Glencross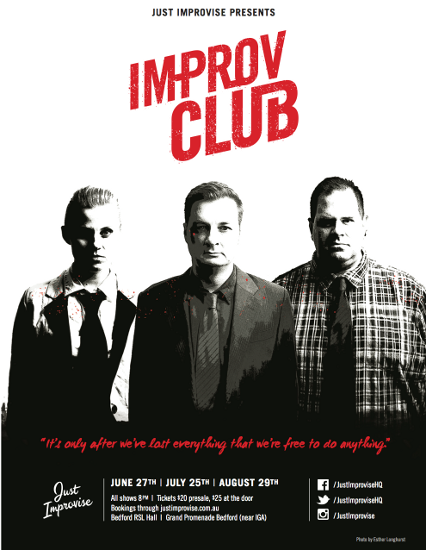 Did someone say Improv Club is on?!
Just Improvise brings to Perth audiences two exciting events for the months of July and August. One is the Improv Club, and the other is JUMP, a one-day improv initiation masterclass.
Learn the 3 rules of Improv Club or else...Improv Club is two jabs and a right hook, straight right, uppercut, roundhouse of unpredictable, hard-hitting, gritty, uncompromising, unscripted theatre in three acts - in a cabaret setting.

There are three rules to Improv Club:
The first rule of Improv Club is: you do talk about Improv Club

The second rule of Improv Club is: you DO talk about Improv Club

The third rule of Improv Club is: if someone yells "scene", bows or the lights go out, the improv is over.

Act One: start the evening with Movie Film. Manfred Yon and Alex Circosta creating a never-before-seen blockbuster, based on audience suggestions, delivered in 15 minutes with a whole lot of tounge in cheek.
Act Two: Divergent Minds, improvisers enter the realm of the seemingly impossible with each performer playing out multiple scenes, in any time or place, using one central character. Featuring Jane Maynard, Claudia Fontane, Cass Rowles, Leone Rose, Sabrina Seconi and Catherine Seed.
Act Three: Triptych. Divided into three stories, inspired by three different suggestions, played by three individuals (Esther Longhurst, Glenn Hall and Chris Bedding) – masterfully woven together into one.
"It's only after we've lost everything that we're free to do anything."


Event Details
Date: Improv Club is on Friday 25 July, and Friday 29 August.
Time: 8pm
Location: Bedford RSL Club (Grand Prom, near IGA)
182 Grand Promenade, Bedford, WA, 6052

Tickets: All tickets $20 pre-sale through www.justimprovise.com.au and Trybooking
$25 at the door.
Note: BYO Drinks and Nibbles
Coffee, tea and sweet things for sale at interval.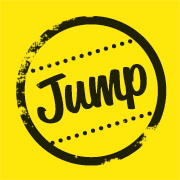 JUMP is Just Improvise's one-day improv initiation masterclass.
Led by WA Academy of Performing Arts (WAAPA) improv specialist and National Champion, Glenn Hall, JUMP encourages you to take a leap of faith in yourself and just improvise!
JUMP focuses on the attitude, approach and mindset required for effective improvisation and how to get the most out of yourself as an improviser – and in your everyday life. The masterclass gives individuals the opportunity to experience and embed integral, yet counter-intuitive, ideas such as 'failing happily,' 'being obvious to seem creative' and 'trying less to achieve more' – while at the same time, exploring the role of the individual within the ensemble.
Our core philosophy of The Hive of Nine Be's™ encourages participants to 'be yourself', 'be playful', and 'be positive' to experience positive change through improvisation.
The class takes participants on an exploration of the philosophies, theories and language of improvisation, through the eyes of Just Improvise, our exercises, our games and scene play.
All Just Improvise courses are experiential and reflective and are run in a safe environment based on mutual respect and trust, encouraging fearlessness, collaboration, commitment, positivity and – most of all – fun!
Pre-rquisite: Participants must be 18 years or older, no previous improv or performing experience required.
Event Details
Date: Bookings for JUMP can be made for either Sunday 27th July, or, Sunday 21st September

Time: 8pm
Location: Bedford RSL Club (Grand Prom, near IGA)
182 Grand Promenade, Bedford, WA, 6052
Price: A$110.00 inc. GST

For more information about these and other exciting events by Just Improvise, visit their website.

If you enjoyed this article, please share it!