Details

Category: Events
Published: Sunday, 06 December 2020 07:29
Written by Nita Teoh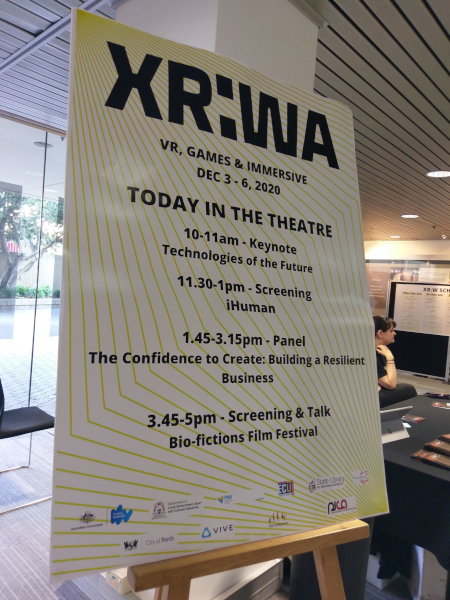 XRWA:2020
Photo Credit: Nita Teoh
The State Library of WA at the Perth Cultural Centre has been abuzz with all things technology related - with the XR:WA 2020 AR, Games  and immersive conference and festival held from the 3 December to 6 December.

In its 2nd year running, the technology conference and festival is packed to the brim with immersive experiences, interactive games sessions, films and documentaries, keynotes and talks from leading experts about virtual reality (VR) and augmented reality (AR).

This year it has been made a free festival, and provides an excellent opportunity for those with an interest in technology to attend, along with the general public to gain exposure to what technology in the future might be like us for at the individual level as well as its impacts on our daily lives in the next decade to come – whether it be at work, at school or in our broader community.

Highlights of XRWA:2020 has been the Bio-Fiction Science Art Film Festival. It took place in Austria last year and we are lucky in Perth to be able to experience it as part of XR:WA 2020.

The Bio-Fiction Film Festival showcases a series of unique short films where science meets art, design and film - this year its focus is on neuro technologies – imagine a possible future, and gain insights into current practical applications in a range of disciplines.

HTC Vive 360 degrees VR Cinema is back. Strap on a headset and take yourself to another world to immerse yourself in different worlds. Experience arriving in a new country to live – in "Passenger". Your taxi driver, himself a migrant to Australia, navigates the new terrain with you, acting as your guide while also revealing small parts of his own story.

And if you are wondering what the future of robots might be like and how you might live with one, catch the  award winning documentary Hi AI.

Hi AI follows Chuck, a Californian searching for love and happiness, as he picks up his new companion robot Harmony and embarks on a road trip through the United States unlike anything we have ever seen.  

At the other end of the world, in Tokyo, grandma Sakurai receives the cute robot, Pepper, from her son. But Pepper turns out to be a rogue, with grandmother's topics of conversation of little interest to her new robot friend. Pepper prefers to flirt with other members of the family.

While Harmony and Chuck search for love, and Pepper and Grandma kill time, the question increasingly arises: how will we live with artificial intelligence? What will we win, what will we lose? And who are the main characters of this beautiful, new world?

Too many things and too little time - get there down - today is the last day to enjoy XR:WA 2020 in all its weird and wonderful glory.

For program details, visit XR:WA 2020

If you enjoyed this article, please share it!


To find out about the hottest events in Perth, follow us at @PerthWalkabout