Details

Category: Perth Restaurant Reviews
Published: Saturday, 13 July 2013 13:10
Written by Nita Teoh
Taro Taro
Shop 2, 293 Albany Highway
Corner Albany Highway and Leonard Street
Victoria Park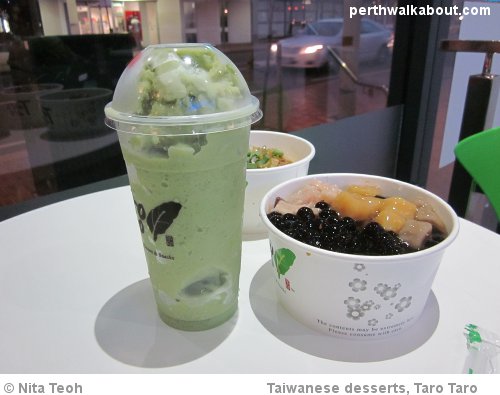 Summer in Perth can be century heat and winter is coldish, so you may just be in need of some desserts to cool you down or warm you up. If you're looking for some different desserts to try, then head on down to Taro Taro in Victoria Park which serves up Taiwanese desserts.Taro Taro is a popular hangout for those wanting to catch up over a cool dessert, drink or two or meal.
One of its signature desserts, the "Taro Taro Signature Herbal Jelly Ice" consists of a combination of herbal jelly, taro balls, taro and sago pearls. You can also order other different dessert variations with soya bean, tow fu fah, similar to the soya bean desserts that you can buy from the tofu shop on William Street and dim sum places in Northbridge.
They also serve a large selection of iced drinks with sago balls, and different flavoured jellies and toppings such as ai-yu jelly, coffee jelly, aloe vera, popping lychee pearls, and crystal seeds .
And of course, it would be remiss of me not to mention they also have ice cream - green tea, and taro, to name a few.
Perth has had many bubble tea places spring up around the CBD area and Northbridge, and in suburbs north and south of the river. Taro Taro offers up a different twist with its expanded repertoire of desserts.
There are also main and snack type dishes on offer such as the pork and hand made noodles, seafood noodles, fried chicken (with or without chilli), and pork, egg and rice dish. Dishes are priced from around the $6 to $15 mark so they won't break the bank.
We ordered a serving of their fried chicken with chilli - highly recommended but skip the chilli if you don't like hot stuff, as it does have quite a kick to it. The pork with hand made noodles were fresh, with pickles, spring onion, and a visit to Taro Taro wouldn't be complete without ordering their signature Taro Taro dessert. To round off the meal we cooled down with an ice blended green tea, with the sweetness selected at just the right level for our taste buds.
One great thing about the way the Taiwanese serve up their drinks is that they allow customers to choose the sweetness of drinks. So you can select your drink without sugar, or with 25% , 50% or 75% sugar. This is a great option for those who prefer less sweet drinks, have a health condition such as diabetes and need to watch their sugar intake, or just prefer to adjust their order to match their sweetness palate.
If you are unsure what to order or new to the fascinating world of Asian desserts, view the glass display near the entrance for some sample dishes.
Taro Taro is a popular hangout for the student crowd in Victoria Park, especially overseas students from our neighbouring Asian countries. The suburb of Victoria Park and adjacent suburbs such as Belmont and Wilson are a student enclave with their close proximity to Curtin University and Tuart College.
We are lucky in Perth to be able to sample such a diversity of food offerings from so many different cultures.
All hell broke loose at Taro Taro for a while when one of the signature dish's main ingredients - taro - ran out and they were waiting a shipment from Taiwan.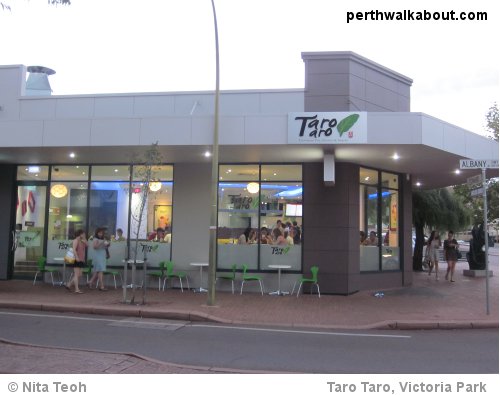 But apart from that slight hiccup some time ago when it had just opened, the café is a well oiled machine. It's busy every night of the week, and though queues may reach to the door, the staff deal with orders efficiently, and in no time you'll have a cooling dessert to get your teeth into, or a warm drink if it is winter time.
The café has a contemporary feel complete with bright green funky chairs and a laser light that zips around the preparation area with its effervescent blue glow. Perhaps ET will arrive soon?! The green décor of the restaurant goes the whole hog and even the uniformed staff are smartly dressed with bright green t-shirts to match their colourful theme.
If you're looking for a little something different to satisfy your sweet tooth, head on down to Taro Taro for some Taiwanese Asian desserts. It's located on the corner of Albany Highway and Leonard Street.
For more Related Articles, please scroll to the bottom of this page.
If you enjoyed this article, please share it!