Details

Category: Travel in WA
Published: Friday, 10 January 2020 09:22
Written by Bob Figg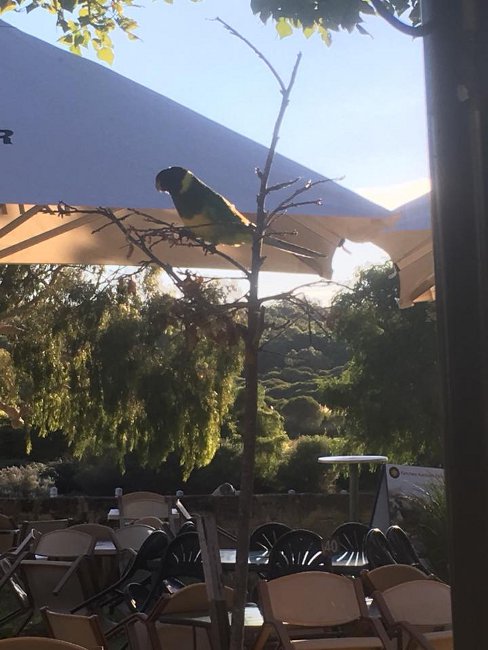 Yanchep Inn
Photo Credit: Bob Figg
As fires raged through Yanchep National Park in December, eventually blazing their way to Two Rocks and beyond, a little dark humour was in order as residents feared the worse.
One local (in fact me) took to Facebook to assure friends around the world that while our house was safe, what was even more important was that the magnificent fire-fighters, both professional and volunteers, had saved the Yanchep Inn.
Overseas and interstate connections were especially pleased. They regularly see a Friday post from me sitting in the beer garden of the Inn, situated in the Yanchep National Park, with kangaroos, 28s and other wildlife hoping in vain for crumbs.
In a state famed for its road trips taking days or weeks, Yanchep is a (long) stone's throw from the city. Just 45 minutes north of the Perth CBD the national park features on a few day trip tour rosters too, but it is an easy drive if you hire a car.
There simply aren't many places where you can sip a beer and watch the kangaroos ("roos") right in front of you.
If you fancy being more active the park offers guided walking tours. There are also caves to explore and even a nine-hole golf course (but bring your own clubs).

Loch McNess (also known as Yanchep Lake) contains no monsters and indeed these days no rowing boats. It does have a mass of birdlife though and is a relaxing spot to ponder life if you have taken a picnic.
Within the grounds there is also a koala sanctuary and yes, these too were spared by the inferno that ripped through large areas of the park.
Currently there are some areas out of bounds because of still smouldering groundcover and dangerously burned trees.
If you fancy making this a stop on your way further north there is now a campsite, while the Yanchep Inn also offers accommodation.
If it is just a day trip and the kids want some action, then the Trees Adventure could be the go.
A more cultural offering is the Aborginal Experience where the proud history of the Noongar people can be explored at Wangi Mia.
For the really adventurous the helicopter rides provided by West Coast Hel Scene are simply amazing. You will never get a better view of the incredible coastline up Yanchep way.

If, like me, you tend to be lazy, then the Inn is all you need. Built in 1936, it is also home to the local war memorial. This is fitting as the Yanchep Inn was for a time a rehabilitation hospital and an RAAF radar station.
There is a fascinating, if somewhat haphazard set of photos and other memorabilia around the place and it is well worth taking a saunter through the dining rooms to look at it.
Food-wise the offerings have been simplified in recent times and it is decent, reliable pub food. There can be a wait on busy days. However, sitting in the beer garden out the back listening to music on a Friday evening is as fine a place as can be imagined to let the evening drift by.

If you're visiting WA and want guaranteed roo sightings this as good as you'll get. If you are from WA and haven't made it that far, give the Yanchep Inn a visit. You'll see why some of us are so pleased it is our local and why we are so glad it survived the fires.

Editor's Note:

While we here in WA have been reasonably fortunate this bushfire season, the Eastern States have not been so lucky.

If you would like to help the people and communities affected by the current bushfires in Australia, donations may be made to national and state appeals including the following:

National

Australian Red Cross
https://www.redcross.org.au/

Salvation Army Disaster Appeal
https://www.salvationarmy.org.au/

Vinnies Bushfire Appeal
https://www.vinnies.org.au/

Victoria

Bendigo Bank Bushfires Disaster Appeal (endorsed by Vic Govt)
https://www.communityenterprisefoundation.com.au/make-a-donation/bushfire-disaster-appeal/

Country Fire Authority Victoria (CFA)
https://www.cfa.vic.gov.au/about/supporting-cfa#donate-cfa

New South Wales

Anglicare NSW South and NSW West and ACT
https://www.anglicare.com.au/services/get-involved/appeals/bushfire-appeal-2020/

NSW Rural Fire Service (RFS)
https://www.rfs.nsw.gov.au/volunteer/support-your-local-brigade

RSPCA NSW Bushfire Appeal
https://www.rspcansw.org.au/bushfire-appeal/

WIRES (NSW Wildlife Information, Rescue and Education Service Inc.)
https://www.wires.org.au/donate/emergency-fund

South Australia

Kangaroo Island Mayor's Relief Fund (endorsed by SA Govt)
https://www.kangarooisland.sa.gov.au/notice-board/latest-news/ki-mayoral-relief-and-recovery-bushfire-fund

State Emergency Relief Fund, for those affected by the Adelaide Hills fires at Cudlee Creek and beyond
https://www.premier.sa.gov.au/news/media-releases/news/new-bushfire-relief-fund-established,-people-urged-to-donate

South Australian Country Fire Service (CFS)
https://cfsfoundation.org.au/donate

Queensland

Rural Fire Brigades Association Queensland (RFBAQ)
https://rfbaq.org/donate-to-a-specific-brigade

If you enjoyed this article, please share it!



To get more insider tips on things to do around Perth and WA, follow us at @PerthWalkabout