Details

Category: Sports & Recreation
Published: Wednesday, 08 June 2016 15:36
Written by admin2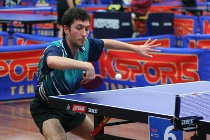 Anyone for a game of table tennis in Perth?
We've all at one stage or another played a game of ping pong in our garage, and competed with our family and friends. If you are interested to play table tennis in a social setting, then come and have a hit at the Perth Table Tennis Club.
The new Perth Table Tennis Club will open its door this Tuesday 14 June and all in Perth are welcome to come and enjoy a game or two of table tennis.