Details

Category: Markets
Last Updated: Wednesday, 16 March 2011 11:59
Published: Monday, 21 February 2011 22:19
Written by Lee-Ann Khoh
E Shed Markets
Victoria Quay
Fremantle WA 6959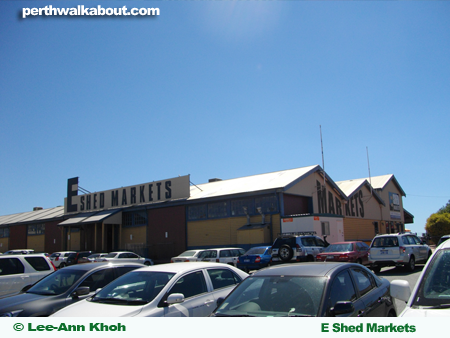 Located in Victoria Quay in the centre of Fremantle Port is Western Australia's only waterfront market, the vibrant E Shed Markets. With a diverse selection of shops and stalls, entertainment and harbour backdrop, E Shed Markets has something for everyone, making it a nice, family friendly place to drop by on the weekend.
It's a scorching Perth summer afternoon when I step into the historic cargo store that has been a feature of Victoria Quay for a century to escape the heat… and into the eclectic house of shops and stalls that is now the E Shed Markets. Kids and adults licking ice creams pass me by as I explore the food, fashion, novelty items and accessories on offer.
There's a store dedicated to wooden products, from wooden clocks to wooden kitchenware; another is all about sheepskin and wool, particularly car seat and steering wheel covers; while another features hats and more hats that are perfect for the Aussie outdoors.
A worker stops to say hello as I examine some organic fruits and vegetables. Later, two shopkeepers happily put their conversation on hold to see if I need a hand as I wander into their bike shop. I marvel at some impressive medieval costumes and ogle some opals, pearls and iron ore jewellery, before browsing through a rack of band shirts and mobile phone accessories.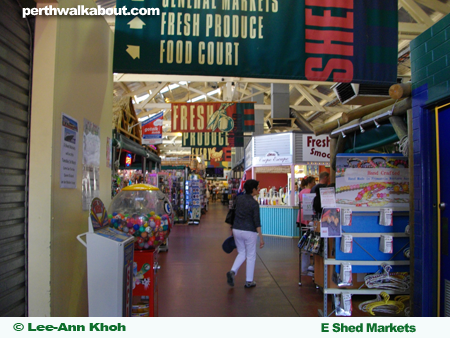 Visitors to Perth can find relatively cheap souvenirs to remember their trip to Australia or Perth by, or to give as gifts. If you're looking some beachwear before hitting Cottesloe or Scarborough, or just something more appropriate for the local climate, you can find something affordable at E Shed. By the way, "thongs" refer to a type of footwear, specifically what Americans call flip-flops – not underwear!
In addition to all the goodies you can buy, there are also a number of services available at E Shed Markets including a photo studio, hair threading and henna tattoo salon, massages and tarot readings.
If you start to feel a bit peckish, you can head to the food court and sample some local and international flavours, including the "traditional" Aussie pies and chips, kebabs and Asian cuisine. For example, the Victoria Café and Restaurant specialises in Indonesian cuisine, which you can enjoy out on the beautiful alfresco area overlooking the harbour – or in front of the food court's TV. Have an ice cream or crepe for dessert, or wash it all down with a coffee, juice, smoothie, or a drink at the licensed bar. There are also arcade games to keep the kids (and kids at heart) amused, with live bands and entertainment at lunchtime.
E Shed Markets is open every Friday, Saturday and Sunday, as well as public holidays, from 9am to 5pm. The food court is open until 8pm.
How to get there
From Perth Train Station, take the Fremantle Line to Fremantle. It takes about half an hour. Victoria Quay, where E Shed Markets is located, is behind Fremantle Station. When you exit the station, instead of heading towards the city centre, turn right and follow the footpath until you find a pedestrian crossing that allows you to cross the train tracks to Victoria Quay.
You may also be interested in checking out other Perth Walkabout Articles:
Tempting Times at the Fremantle Markets

Fremantle Flourishes with Harbour Views and Rich History