Details

Category: Markets
Last Updated: Wednesday, 24 November 2010 09:11
Published: Friday, 22 October 2010 14:42
Written by Sadhbh Warren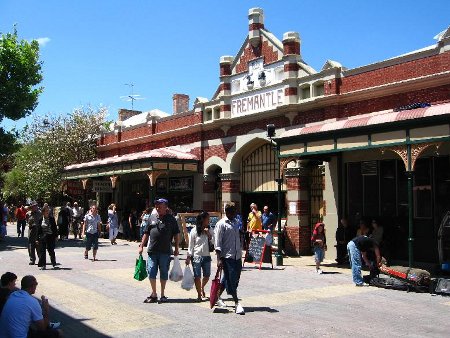 Fremantle Markets
Photo Credit: Wikipedia/Greg O'Beirne
They say that you shouldn't go shopping for food when you are hungry. In the case of the Fremantle Markets, this should be don't go shopping there if you are even a tad peckish.

And I was doing so well too. I have navigated past the brightly hued art stalls, merely breathed the delicious aroma of the coffee stall and even managed to walk straight by the shop with walls of souvenir fridge magnets (my fridge door is already near sagging off, which helps) and then it happens.

I see it. My fatal weakness. My buttery nemesis, fragrant and steaming. Delicious yellow temptress and ruiner of diets. Corn on a cob on a stick.

All I can say in my defence is that, growing up in Ireland, I have never had a chance to build an immunity to the sight of its wonderful buttery goodness. It was Australia that introduced me to it, and now I am like Pavlov's dog. I see corn on the cob, I eat it.

And then, like a leak in a dam exploding, I eat everything else at the markets. A roasted lamb roll disappears in moments. Delicious coffee is savoured, and I somehow end up also buying few bags to take home. A glance at the Mousetrap's cheese somehow becomes a sample and then a full bag of cheeses to take home. A free sample of honey on a stick? Don't mind if I do.

The bright stop of the horizon – which I having difficulty making out over the increasing size of my gut – is that I can't do this culinary orgy every day. The opening hours for the Freo markets are: Friday from 8am-8pm and Saturdays & Sundays from 8am until 6pm during the summer, with the market closing an hour earlier in winter. They also open on the Monday of public holidays.

Established in 1897, and with over 150 stalls, a visit to the Fremantle markets may be a popular choice for Perth visitors, but there is plenty here for locals and return visits too. The food market at the back is crowded with fruit and vegetable vendors - their enthusiasm only matched by their lung-power as they bawl out their prices and entice you to look at their deliciously fresh and juicy products. If you are looking for organic or locally sourced food, here is where you'll find it.  If you are looking for entertainment, you'll find that too, as directly outside the market entrance is Fremantle's best busker spot.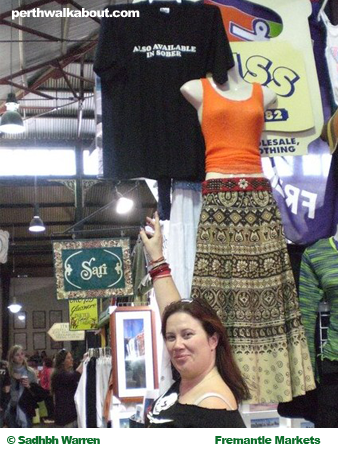 Best of all, markets are a place where local artists show their wares, and local entrepreneurs can test the market without breaking the bank. They've recently opened Designer Lane, a space for local designers who design and manufacture some of their product in WA, where you can find some really innovative and stunning pieces for your wardrobe, as well as funky shoes and fascinating jewellery.

Whatever you are looking for, whether you want to fill your pantry, try something new or find something just a little bit special, you'll probably find your heart's desire at the Freo Markets.

As well as, of course, corn on a stick. Which, for this visitor, is almost the same thing.

What did you enjoy the most when you visited Fremantle Markets?

Add your comment below.