Details

Published: Monday, 24 October 2016 09:33
Written by Lee-Ann Khoh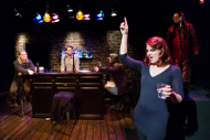 Entering the theatre for The Blue Room's production of [PORTO] felt more like walking into a cosy laneway bar than a play.
I was immediately drawn in by the set – the unassuming bar counter next to a stage with a microphone, and the funky little couch in the corner.

When [], the omniscient, fourth wall-breaking narrator (played by Joe Lui) stepped up to the mic in his ostentatious red outfit, I knew this was going to be an intriguing show.