Details

Published: Thursday, 05 May 2016 12:28
Written by admin2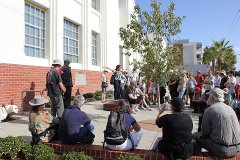 Anyone for a free city walk?
"Meet local legends, discover lost lakes, find out about hidden stories, See your city from a different perspective."
Another year has come and gone and Jane's Walk is on this weekend in Perth.
Broadening its base from the fantastic walks that we had around Maylands last year led by Tina Askam a PhD candidate at Edith Cowan University, this year, Jane's Walk in Perth brings to locals and visitors an excellent selection of free local walking tours from the 6th to 8th May.