Details

Published: Wednesday, 31 January 2018 10:30
Written by Nita Teoh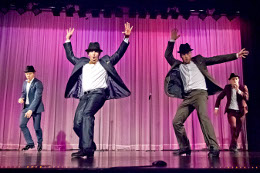 It was a cool, balmy evening as we waited for our show at the Pleasure Gardens in Northbridge.
The pre-show stage was lit in an inviting, purple blue haze reminiscent of the smoke filled nightclubs from the 50's and 60's –not surprising considering that the Tap Pack are a modern day blend of the Rat Pack style and music mixed in with pulsating hot tap footwork and beats, along with some amazing finesse and brilliant showmanship.
As the show kicked off, 3 good looking and fit men (Rohan, Sam and Thomas) dressed in razor sharp suits strutted their stuff with slick moves and incredibly quick toe tapping.