Details

Published: Wednesday, 01 March 2017 12:22
Written by Lee-Ann Khoh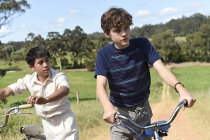 The film adaptation of Jasper Jones had a lot to live up to.
Craig Silvey's award-winning novel is a much-loved modern classic that has been described as "an Australian To Kill a Mockingbird".
I went into the preview screening of the film with some apprehension about how it would stack up against the book, but in the end, I needn't have worried.
Set in Corrigan, a fictional WA town in the 1960s, Jasper Jones is the coming-of-age story of Charlie Bucktin (Levi Miller).