Details

Published: Friday, 10 March 2017 09:44
Written by admin3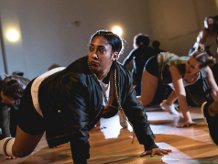 Whether you're a natural born dancer or a newbie who feels a tad uncoordinated – don't sweat!

There's an easy solution in sight whatever your level to brush up on your skills and to have fun by attending a dance class or two this month.
In the spirit of Harmony Week in WA which will run from the 15th to the 21st March, Elan Dance will be celebrating and embracing diversity through the power of dance.
Their 3 day extravaganza workshops will be held across 3 locations in Perth, including at their cbd location at the Kings Street Arts Centre.
Tucked away on the top floor of the King Street Arts Centre away from the hustle and bustle of the daily grind of city life, you'll find throughout the week, dancers strutting their stuff, and moving to the groove with classes such as hip hop, afro jam, power yoga and dancehall.