Details

Published: Friday, 27 April 2012 16:30
Written by Alex Taucher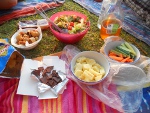 I love picnics. I love them more than peanut butter. I love them because you bring one delicious edible item and get to try more delicious edible items in the company of friends, usually outside in the sun, in a spot with a great view. So, I would like to tell you all my fail-safe-foolproof: 10 easy steps to hosting a picnic in Perth.