Details

Published: Friday, 30 March 2012 11:06
Written by Becky Jean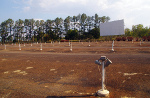 In a world where the iPhone has taken up residency in the hands of many, sometimes it's nice to just do things 'old school'.
Things in my world have really changed and progressed in the last ten to fifteen years. I feel like it was only yesterday that I was riding my bike around after school, and getting my fingers caught in the VCR. It also wasn't too long ago that I was bursting with excitement after purchasing three cassette tapes for ten dollars from the King Kong Clearance store. Out of interest, those tapes were 'Vengaboys', 'Craig David' and 'Robbie Williams Goes Swing'.
Things really can change dramatically in the time it takes to cook a pop tart, which is why it is nice to experience life like we used to.
Like for instance, the Drive-In Theatre. They used to be all the rage. You know, like the one Sandy and Danny went to in 'Grease'.
So it makes me happy to tell you that there is still one of these in existence in Perth. In fact, the only one.