Details

Category: Places of Interest
Published: Wednesday, 10 December 2008 09:56
Written by Nita Teoh
Stroll through the Hustle and Bustle of the Real Chinatown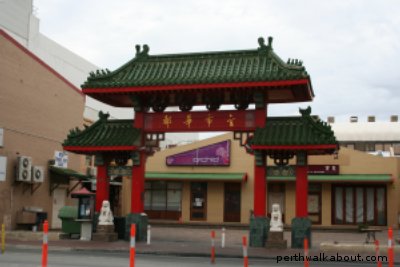 Roe Street, Chinatown, Perth, Western Australia
The official Chinatown on Roe Street in Northbridge is adorned by two lion statues on either side of the pagoda archway. This commercial development was built in the 1980's to mark the presence of Chinese in Western Australia since the early days of colonisation.
During the 1840's, Chinese arrived in Western Australia to work as labourers and farm hands. In the early 1900's, the Chinese excelled in running businesses including laundry enterprises and market gardens. To meet the needs of the Chinese population, oriental grocery stores also sprang up to provide provisions.
The Perth today as we know it is a melting pot of migrants including those from Asian countries such as Vietnam, Singapore, Malaysia, India, Indonesia, Philippines, China, Hong Kong, Sri Lanka, Taiwan, Burma, Cambodia and Brunei. And the range of cuisine on offer in Northbridge is a reflection of our ethnically diverse population.
Restaurants are the mainstay attraction of visiting Chinatown. At night, Chinatown comes alive as customers patronise their local favourites. The burgeoning overseas student population frequenting Chinatown for their bubble tea and late night clubbers snacking into the early hours of the morning create quite a hive of activity.
Lunar events such as Chinese New Year also bring added festivities to the city and Northbridge. One can hear the recognisable clash of cymbals which sets the beat for lion dancers prancing through restaurants to bring good luck and prosperity.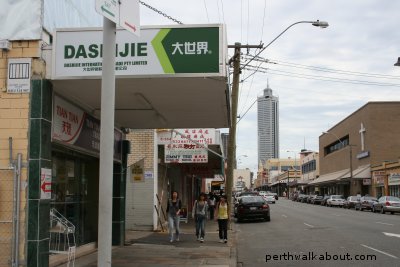 William Street, unofficial Chinatown, Perth, WA
On the other side of Northbridge adjacent to North Perth and Highgate, the proliferation of Asian shops along the Brisbane Street end of William Street has created the real Chinatown. This is the Chinatown where shoppers purchase their provisions from Oriental groceries, butchers, bakeries and various specialty shops.
Coming up
Reviews of new shops along William Street in the real Chinatown.
Other Perth Walkabout articles
Prime Products for Indian groceries
Tofu Shop in Perth Chinatown
Go to
Places of Interest