Details

Category: Places of Interest
Last Updated: Thursday, 04 November 2010 11:12
Published: Monday, 04 October 2010 00:06
Written by Lee-Ann Khoh
Curtin University
Kent Street
Bentley WA 6102

The main campus of Curtin University, Western Australia's (WA) largest university, is located in the suburb of Bentley. It is well serviced by buses and conveniently situated close to student housing and Waterford Plaza Shopping Centre. The Bentley campus is also adjacent to Canning College and across the road from Technology Park.

Curtin University began as the Western Australian Institute of Technology (WAIT), which officially opened in 1966. In 1969, the School of Occupational Therapy and the School of Physiotherapy, as well as the Western Australian School of Mines (WASM) in Kalgoorlie and Muresk Agricultural College in Northam merged with WAIT. Schools based around the health sciences, business and administration, and the arts and architecture were added during the 1970s. WA's State Government granted WAIT university status in 1986, and in 1987 it was renamed the Curtin University of Technology, in honour of wartime Prime Minister John Curtin. The university's motto "Look ever forward" was taken from the writings of John Curtin.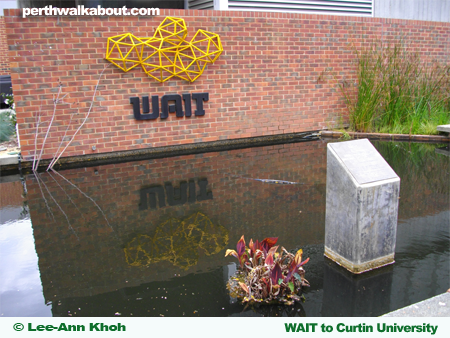 Apart from its campuses in Perth and Sydney, Curtin has also expanded into Sarawak in Malaysia and Singapore. Having started life as an innovative college for higher education before becoming a university, Curtin has developed a reputation for its practical courses. Curtin Business School is also highly regarded and the university continues to have a strong multicultural focus. Curtin also aspires to be one of the top research universities in the Asia-Pacific region. In 2010, a decision was made to change its name from Curtin University of Technology to simply Curtin University.
Curtin has produced several notable graduates, including acclaimed author Tim Winton, Australian cricketer Brad Hogg, West Coast Eagles premiership captain and coach John Worsfold. A number of respected reporters also studied at Curtin's School of Journalism.

The Bentley campus grounds are quite vast, with well maintained parks and gardens to liven up the concrete jungle. Signs and maps are located along the pathways on campus to help guide your way.
Suggested points of interest:

John Curtin Gallery
The John Curtin Gallery is a public art gallery and one of Australia's biggest university galleries. It opened in 1998 and has showcased the work of numerous local, national and international artists. The gallery is open on weekdays from 12pm to 5pm.

Curtin FM
Community radio station Curtin FM 100.1 operates from Bentley campus, run by volunteers and catering mainly to over-45s. The station also allows Curtin's student journalists to hone their broadcast skills.
Hayman Theatre
Hayman Theatre showcases the creativity of Curtin's Performance Studies students, with free shows sometimes put on during semester. Since the main theatre in Hayman Hall closed in 2006, major productions have been held in the Theatre Upstairs or at off-campus venues.
Speakers' Corner
Speakers' Corner brings people of all cultural backgrounds together every Wednesday during semester at 12:30pm in the garden outside Curtin English Language Centre (Building 208). There, you can make friends with people from across the globe, practise a foreign language and teach a language that you know. At other times, Speakers' Corner is simply a great place to sit and relax.
Curtin Stadium
Curtin's recreational services are centred around Curtin Stadium, which offers a range of fitness and sporting activities, including classes and memberships.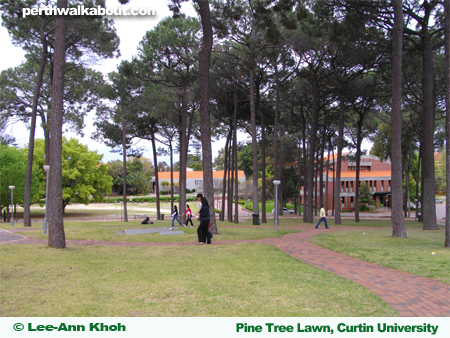 Pine Tree Lawn
The pine trees opposite T.L. Robertson Library are a great place to relax and on Wednesdays from 12 noon to 2pm during semester, there is often live music or a DJ to enjoy.


Interested to find out about other universities in Perth, Western Australia?

Read Perth Walkabout's article on the University of Western Australia.