Details

Category: Places of Interest
Last Updated: Friday, 15 October 2010 09:49
Published: Friday, 10 September 2010 13:53
Written by Sadhbh Warren
According to popular evolutionary theory, our ancestors crawled out of the sea about 400 million years ago. I am convinced they did it mainly to avoid jellyfish.
I do like the sea but I'm not keen on jellyfish. Or most of the ocean's residents, such as sharks, sea snakes and eels. So while I was looking forward to seeing Hillary's Boat Harbour and specifically the Aquarium of Western Australia (AQWA), you'll have to forgive me if comments like "you can get right up there and touch them" and "loads of amazing jellyfish" left me less than enthused.
Hillary's Boat Harbour is special in that it has something to offer everyone, be they first-time visitors or long-term Perthites. The area is named after an early settler, Bertram John Hillary who built a boatshed on the beach in 1930. He and his family were initially the only occupants of the area and they probably wouldn't recognise it now. Since opening in 1988, Hillary's Boat Harbour has built itself up to offer everything anyone could want; boat moorings, bars and restaurants, numerous attractions including the amazing Aquarium of Western Australia and the insanely silly but fun Great Escape adventure park.
There's a diverse range of shops and services catering to everyone from local fishermen to tourists from across the globe. You can take a boat tour to see whales and dolphins, or take a Harley Davidson motorcycle tour inland. If you want to play mini-golf or go for a paddle, shop for local art or have a taste of Margaret River delicacies, you have come to the right place.

Or, of course, see jellyfish. How can I forget the jelly fish?
There is plenty of parking (they say over 2,700 spaces and you'll have to forgive me if I took them at their word and didn't count) and – more importantly – plenty of shade. When the temperature gets too high and the noon sun is threatening to turn you into a lobster, you can shelter with a nice cool drink or ice-cream in one of the many shaded areas. Or go hang out with the jellyfish.
Always with the jellyfish.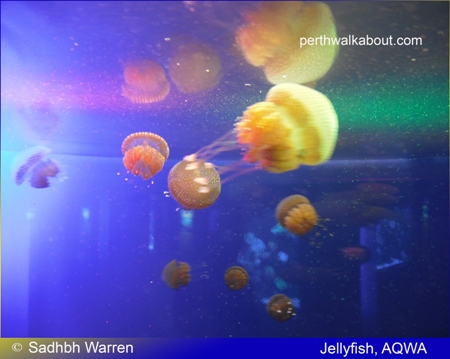 The Aquarium of Western Australia has a justified reputation as a Perth must-see. It recreates the various marine environments surrounding Australia, from icy waters of the southern ocean to the coral reefs in the Far North, allowing you to get up close and personal without going under yourself. The founder of this idea, Morris Kahn, was scuba diving in the Red Sea when he damaged his eardrums. Unable to dive for a while, he thought about what it would be like to never experience life under the sea. That grew into the idea that became AQWA's purpose - the drive to show everyone the magic and mystery of the ocean's depths. It shows you the sights below the sea without you even needing to get your feet wet.
You can get your hands damp, if you like. The Touch Pool is a shallow pool designed for just that, including brightly coloured starfish and a curious ray who will deliberately brush off your finger tips. It's popular with the kids, and even I – scaredy cat that I am – manage to get up the nerve to stroke a pair of amusingly emo-looking black and red starfish, sparkling sulkily and un-movingly up at me. I call them Edward and Bella.
However in the aptly named DANGERzone, there's no chance of contact. Thick glass protects you, while the signs are filled with information I did not need to know about such as the various things in the ocean that can sting, stab, bite or wrap me with little suckered arms. They make the huge tanks of jellyfish in the lobby, glowing serenely blue and red, seem positively cute.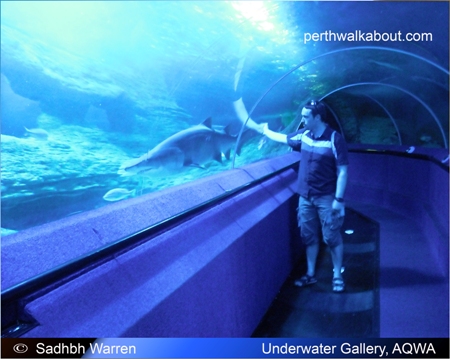 But the star of the show has to be the underwater tunnel through Australia's largest aquarium. A conveyer belt carries you sedately along as sharks twice my size, snuggle-toothed mouths open, glide overhead. Standing below the water in a blue glow, we watch the giant sharks, and rays and turtles swim by seemingly close enough to touch. It's an amazing experience, like diving into the sea, unencumbered by tanks and wetsuits.
If that's not close enough for you, you can also snorkel or dive with the sharks but I decide that I have got close enough to the denizens of the depths for one day. With one last look at the jellyfish – who are, it must be said, rather pretty – I head back to dry land above the sea, and a cool beer as I watch the sun go down from the jetty.

Feeling peckish after that underwater adventure?

Read our article on Eating Out at Hillary's Boat Harbour.