Details

Category: Arts & Culture
Published: Saturday, 03 February 2018 14:14
Written by Lee-Ann Khoh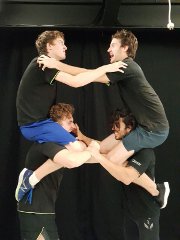 It was my second visit to The Actors' Hub in less than a week. This time I was there to see One Punch Wonder, an original play developed as part of their 4x4x4 program for the Fringe World Festival.
As I walked into the theatre, I saw that the set had been transformed into a boxing ring. I took a seat "ringside", though the intimate venue allowed everyone in attendance to be close to the action.