Details

Category: Places of Interest
Published: Tuesday, 16 November 2010 11:50
Written by Vicki Sly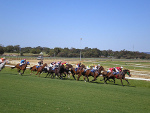 Horse racing, also known as the Sport of Kings, has been around in Australia since the early 1800s.

Today it is still going strong, and for visitors to Perth, a day at the races is a quintessential Australian experience worth considering, even if you are not a gambler at heart.

Although we are often unfairly stereotyped as a nation obsessed with gambling, a day out at the races is not just about the betting, but rather also about the atmosphere, the beautiful location, the horses and their colourful jockeys, spending time with friends, and most importantly, the opportunity to dress up and wear a posh hat.