Details

Category: Arts & Culture
Published: Saturday, 03 February 2018 14:14
Written by Lee-Ann Khoh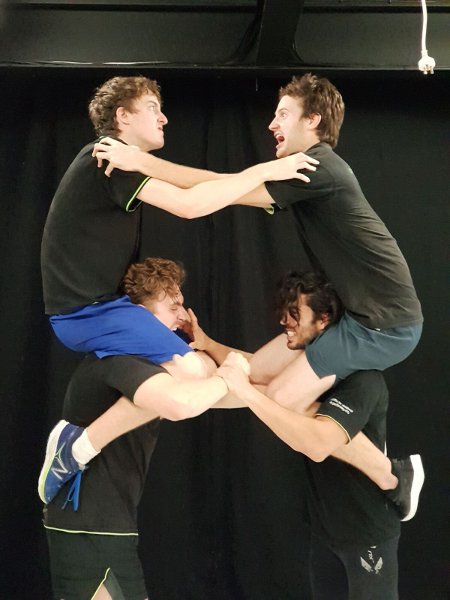 Andrew Dunstan, Adam Droppert, Nicholas Allen, Christian Tomaszewski in One Punch Wonder
Photo Credit: Actors' Hub

It was my second visit to The Actors' Hub in less than a week. This time I was there to see One Punch Wonder, an original play developed as part of their 4x4x4 program for the Fringe World Festival.
As I walked into the theatre, I saw that the set had been transformed into a boxing ring. I took a seat "ringside", though the intimate venue allowed everyone in attendance to be close to the action.
The four young stars of the show – Nicholas Allen, Adam Droppert, Andrew Dunstan, and Christian Tomaszewski – were dressed as boxers, but each acted as several characters of different ages and genders throughout the course of the play. There was no real plot, and one could even describe it as a mix of vignettes and interpretive dance. It was also a very physical performance, with punches thrown, bodies pushed to the ground, and sweat spraying onto the canvas.
The play was an exploration of toxic masculinity in our society. In particular, it provides social commentary on the destructive gender roles that are imposed on boys and young men, and the culture of binge drinking, substance abuse, and violence that leads to a spate of one-punch attacks. The rapid-fire dialogue, which was undoubtedly difficult to remember, included snippets of news reports and personal stories from the families of one-punch victims.
I was concerned early in the performance that One Punch Wonder would labour the point and become overly preachy. However, it morphed into something powerful as it examined the impact of one-punch attacks on the people involved and the community as a whole. By the end of the play, several audience members were visibly moved to tears.
One Punch Wonder is on again at The Actors' Hub in East Perth on February 10, 18, and 22 as part of Fringe World.
If you enjoyed this article, please share it!
To find out about the hottest events around Perth, follow us at @PerthWalkabout