Details

Category: Day Trips
Published: Wednesday, 30 November 2011 09:05
Written by Nita Teoh

Today, the sun is shining bright in Perth, and it is a perfect day for an outing to Penguin Island via the Shoalwater Safari cruise to see the penguins, dolphins, and other wildlife. I am looking forward to seeing the penguins, with their cute little webbed feet and shiny bright coats glistening in the water.
My first mission for the day is to reach the Mersey Point Jetty, Shoalwater near Rockingham at 10:15 am. If I don't make it on time, I may miss catching the boat with Rockingham Wild Encounters, and it will all be tears, and not just for the dolphins and penguins. :-(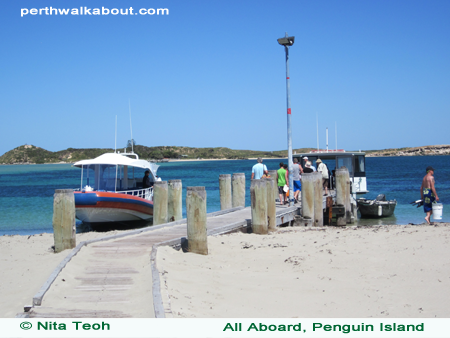 I've done my trip planning on the Transperth journey planner in readiness, and I am all set for my big day out. If you're planning a trip to Penguin Island, catching the train is an easy and low stress way to get to Penguin Island which is located in the Shoalwater Island Marine Park in Rockingham. It's an easy 45 minute train ride to Rockingham, then a quick bus ride on Bus 551, 552 or 553 from Stand 10 and short walk down Penguin Road to reach Mersey Point Jetty, Shoalwater. You'll need to get to the Perth Underground in order to catch the Perth to Mandurah train, and if you have a SmartRider card, make sure it is topped up before setting off on your journey.
I've noticed that the trains are getting much busier in Perth compared to five years ago. Today being a working day, the carriages on the Midland train line to Perth are filled with commuters. Short, tall and skinny, we are packed into the carriages like sardines. I literally had to push myself into the carriage just before the doors shut. Thankfully, I was on my way!
By contrast, the journey by train out of Perth and to the Rockingham train station was a smooth and easy ride and there were not many people on the train at all. Special note for those taking the train to Rockingham that alternate trains terminate at Cockburn Central station. But never fear as within the next four minutes, you can catch the next train and finish your journey to Rockingham.
Another tip when arriving at the Rockingham train station is to allow for extra time when waiting for the 551, 552 or 553 bus to get you to the ferry terminus. Once you disembark from the bus, it is a short 10 minute walk straight down Penguin Road to get to the Mersey Point Jetty, Shoalwater.
When I got to the Rockingham Wild Encounters Centre, the Pengo's café beckoned with the smells of coffee and freshly baked muffins to munch on whilst you await your departure for the Shoalwater Safari, in my case at 10:45am. Whilst waiting for your ferry, take your time to enjoy the views out to Penguin Island. The weather on this day was truly spectacular - the waters were crystal clear and gleaming in the sunshine, and there was a not a cloud in the sky.
We had just under 40 people on board for the safari. On this day, Angelica (our guide) and Jimmy (our captain), both from Rockingham Wild Encounters were there to look after us. The Shoalwater Safari is a popular attraction, and today there were people from all walks of life and different countries.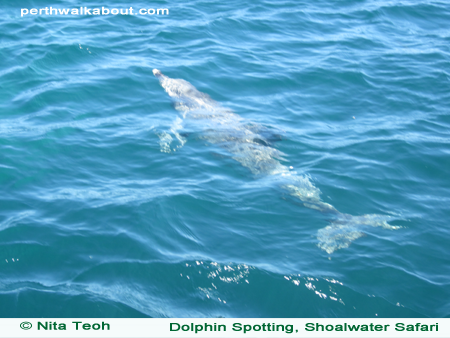 One of the highlights of the Shoalwater Safari for me was the anticipation and excitement of spotting dolphins in the water. On this day, we started off slowly and spotted a dolphin or two – but as we continued our journey, more and more dolphins came out to play. They were really happy to see us and likewise there was sheer excitement and yells of delight amongst our group as we enjoyed our special time with the dolphins.

Other highlights of the safari was the stop off at Seal Island. Australian sea lions are a unique species and sad to say their population has diminished over the years. However, today we were not to be disappointed and we spotted 3 sea lions basking in the glorious sun.
After our cruise on the speedy boat in the hands of the very capable captain Jimmy, our next stop was a visit to the Discovery Centre at Penguin Island. Once there, we had an informative and interesting talk by Jane from the Department of Environment and Conservation (DEC) about the fairy penguins. Some of the penguins were in mid process of shedding their feathers, which usually occurs after the breeding season as they start to grow new feathers to replace their old plumage. I was also amused to hear that some of the penguins eat a couple of hundred fish or more a day. Big appetites or what!
As I walked around the island, I enjoyed watching the young chicks of the terns take their first tentative steps on the beach, and I also had a good chuckle at their cool, mohawk style haircuts. The mighty pelicans were also in full swing with their breeding and have their special spots on the island where they nest. Finally, on the beach side near the caves, I was also lucky to spot a sea lion relaxing on the shore and taking in a few rays of sun!
Penguin Island is a fantastic place to relax, and do a spot of kayaking, swimming on the beach, or snorkelling. I concluded my visit to Penguin Island with a dip in the cool crystal clear waters – most refreshing! It was a terrific day out and I highly recommend visiting Penguin Island via the Shoalwater Safari as a day trip if you are travelling around Perth, or are a local who hasn't been there recently.

For more information about visiting Penguin Island and going on the Shoalwater Safari, check out Rockingham Wild Encounters.