Details

Category: Events
Published: Friday, 03 May 2013 08:27
Written by Nita Teoh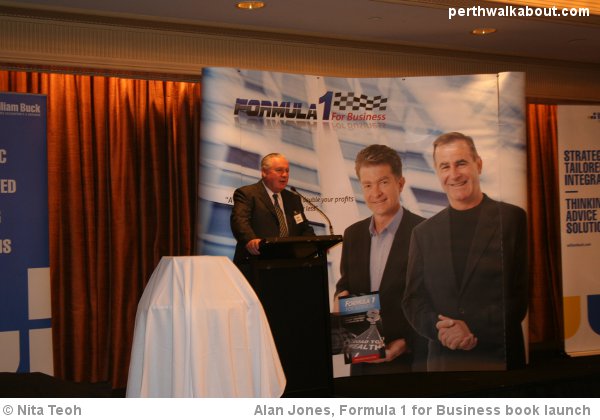 On a weekday night in Perth, the business community gathered at the Hyatt Regency in Perth for a special function, with Alan Jones Formula 1 racing driver making a guest appearance to launch the book Formula 1 for Business. The book is co-authored by entrepreneurs Simon Frayne and Daniel O'Connor, both of whom are well known to the Perth business community.
You may ask what does Formula 1 driving have in common with business success? Quite a lot it turns out, as we heard Alan share his stories about his start in the racing driving community. Armed with only 50 quid in his pocket, and a burning ambition to make his mark, he headed off to the UK to pursue his dream of becoming the best Formula 1 driver. And that he did, with a momentous string of wins in the Formula 1 World Championships that we all know and admire him for.
Alan Jones' busy schedule in Perth also included a star appearance at a charity lunch to raise funds for the Kalparrin – A Centre for Families of Children with Special Needs, located at the Princess Margaret Hospital.
Alan points that in Formula 1 driving, as with success in any aspect of life "It's not the car it is the person in the car who makes it happens". In applying this principle to success in business Alan Jones adds that "it is important that you know your product, be determined, and have belief in yourself."
Mental rehearsal and presentation is a critical aspect of getting ready for that all important race, whether it be on the driving track or in the business arena. Alan let the audience in on one of his trade secrets for his grueling performance wins – what formed part of the winning formula for his stunning performance in races was wearing his favourite lucky red underwear! Rituals, no matter how trivial they appear, are often important in getting ready for that big event from a psychological standpoint.
There were a lot of laughs amongst the audience as Alan kept us entertained with stories from all parts of his career. In addition to the laughter and admiration that filled the room, the audience of business owners and entrepreneurs finished the evening feeling inspired and motivated.
These were a few of the comments from audience members:
"It has been a very inspiring night which has really made me feel motivated. The principles of success should be applied in all aspects of your life – both personal and professional." Nilesh Shah, Holista Coaltech Ltd
"My Dad runs a business and in future I plan to run my own business. I know that Simon Frayne and Daniel O'Connor's book "Formula 1 for Business" will be invaluable for my future learnings when I run my own business." Rupesh Savaliya
"Nothing happens unless you make it happen. It has been a really great night this evening to be amongst and network with a roomful of like minded, forward thinking individuals in the Perth business community." Mal Spencer, Fibre Solutions

The launch of the book Formula 1 for Business by Perth authors Simon Frayne and Daniel O'Connor was a resounding success - the starting flag has been waved and the race is on! The framework outlined in the book aims to help businesses double their profits in 10 months or less. The motivation for the book is Frayne's and O'Connors desire to help teach small to medium businesses how to apply the same principles that the corporate giants have applied to business success.
Stay tuned in the months to come for seminars based around the Formula 1 for Business principles. For further information about the program and book Formula 1 for Business visit their website.
We hope that Alan Jones will be back for another discussion soon. As well as his lifelong passion for Formula 1 racing, he also enjoys visiting our beautiful city of Perth. Perhaps we can bring the next Formula 1 to Perth!
If you enjoyed this article, please share it!