Details

Category: Events
Published: Friday, 21 March 2014 09:31
Written by Nita Teoh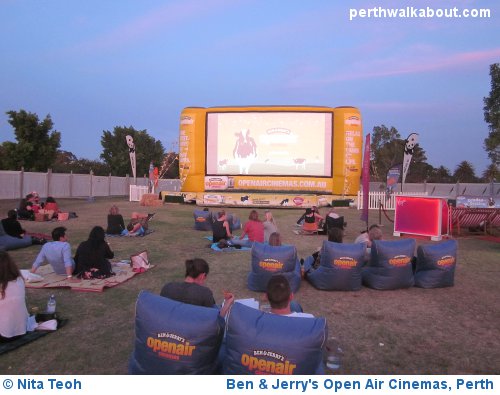 Ben & Jerry's Open Air Cinemas has kicked off its first season at its open air location in the Perth CBD, with the cinemas already proving popular at other locations around Australia. We headed off to the city for the evening with snacks and picnic rugs in tow and got to the open air cinemas early, looking forward to watch the romance About Time, from Richard Curtis, the same person who brought us Four Weddings and a Funeral, Bridget Jones' Diary and Love Actually.
The location of the open air cinemas is on the corner of Plain Street and Riverside Drive, and you can either purchase your tickets online in advance, or book on the night. The advantages of booking ahead are that you secure your ticket, and that the ticket prices are also slightly cheaper. There's also the option of purchasing deck chairs or bean loungers to get comfy for the night. The bean loungers were very comfortable (but a bit tricky to get up from!) as we settled in to watch the movie.
The cinemas are also dog friendly so you can bring your pooch, which is fantastic to know for pet owners. On this night, we brought Harry, our guide dog puppy in training for our evening out. He seemed to enjoy himself, although he did more people and pooch watching than movie gazing.
Prior to the movies, there are a good range of drinks and evening snacks available with pizza by the slice brought to cinema patrons by Delisio, of Enex 100 and Churchill Street in Subiaco. Their pizza is particularly scrumptious, with the trio mushrooms and Iron Man hitting the spot.
There a wide range of drinks available from the drinks outlets including a range of ciders from Rekorderlig, 4 Pines beer, and soft drinks.
About Time is a romantic movie which follows the life of Tim (Domhnall Gleeson) a young adult who discovers that he has inherited the same powers of his father Bill (Bill Nighy) that allows him to travel back in time. Tim uses his powers to try to improve his love life and help out his friends and family, but discovers that there are some things you can't change, and some things you don't want to, such as his romance with his sweet heart Mary (Rachel McAdams). It is heart warming and funny movie, with some nice dramatic and sad touches at times, and is perfect if you're looking for a light hearted and feel good movie.
The movie also makes you think about central themes such as:
If I could really turn back time what impact would this have on my life
What things about my life would I change
Who would I connect with, especially loved ones, if I could turn back time
It questions our mortality as humans,
It ponders the question whether time travel is really possible from a scientific viewpoint
It opens debate about the issue of "what exactly is time?"
The theme of turning back time has been done in countless movies including Back to the Future, Groundhog Day and Run Lola Run. Though About Time approaches it with Curtis's typical light but sure touch. And if you are a sucker for a good romance, then this will be a perfect one to watch.
The night was a great evening out, with the weather very balmy, not too cold, perfect for an evening spent relaxing on a bean bag watching an outdoor movie in Perth.
The season for Ben & Jerry's Open Air Cinemas in Perth runs from 16 March to 13 April. Check out the website at openaircinemas.com.au for program details.
And remember, on Sunday nights, there is live entertainment and free ice cream to keep a look out for.
If you enjoyed this article, please share it!
Nita Teoh pens her passion for exploring Perth at Perth Walkabout. For the insider tips on upcoming events at Perth, follow us @PerthWalkabout