Details

Category: Events
Published: Thursday, 13 March 2014 08:58
Written by Nita Teoh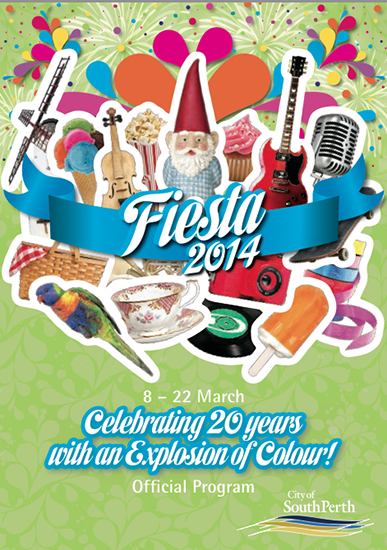 The annual South Perth Fiesta festival has been on this month offering a jam packed program of activities suitable for the whole family to enjoy. Check out some of the upcoming featured events to celebrate the Fiesta's 20th anniversary, before the event comes to a close on the 22 March:
Waterford Plaza Street Festival
Colours of our Cuisine
From the 15th and 16th of March starting at 11am, Waterford Plaza will transformed into a local community market place with fresh produce on offer, cooking demonstrations to whet the appetite, and roving entertainment. Waterford Plaza is located on the corner of Kent Street and Manning Road in Karawara.
Colours of our Culture Film night
The Colours of our Culture Film night will feature the movie Bran Nue Dae at the outdoor location of the promenade of Waterford Plaza. The movie is a funny road adventure which follows the story of a young man Willie's youthful rebellion and his journey of self discovery that ultimately leads him back home. It is set in the beautiful location of Broome, and Perth, Western Australia, and is the adaption of the musical Bran Nue Dae by Jimmy Chi. Catch Bran Nue Dae at 630pm on Saturday 15 March at Waterford Plaza.
Fiesta Stage
From 11pm to 3pm on Sunday, 16th of March, performers will hit the stage at the Fiesta to provide a glimpse into their cultures – watch Chinese dancers in action and African drummers get into the rhythm, or try your hand at Aboriginal painting at a hands on workshop.
Can You Feel Colours?
On the arts front, Can You Feel Colours? presented by Preston Street Artspace, is an art exhibition featuring paintings and design objects by artists expressing their inner thoughts and emotions. The exhibition is open from 10am to 5pm at Preston Street Artspace at 12 Preston St in Como and ends on the 15th of March.
Paint Box - Focus on Flora
"Drawing and painting flora have been my passion for the past decade. Having lived in South Perth for over 40 years, I am delighted to showcase my first solo exhibition of watercolour paintings in familiar and historic surroundings."
- Kerry Henry
The South Perth Historical Society will present Paint Box - Focus on Flora, the first solo exhibition of local artist Kerry Henry. The launch of the art works of this emerging artist runs from Friday 14 March and will finish on Sunday, the 23rd of March. The exhibition will be held at Heritage House at 111 Mill Point Road in South Perth.
Moodjarl Tours: Colours of Bunuru
Join local Aboriginal Yorga Kerry-Ann Winmar on a guided tour of the Swan River to discover the importance of the Derbal Yerrigan (Swan River) to the Noongar people. Departs from the Scented Gardens on Saturday 15th March, with two tours departing at 9am and 10am, from the Sir James Mitchell Park, Mill Point Road in South Perth. Tickets are $10 plus booking fee, and you can register online at coloursofbunuru.eventbrite.com.au
Fiesta Concert Showcas

e
Festivities at the Fiesta will wrap up on the 22nd March with a closing concert to be held on the South Perth foreshore. The concert will feature Lucy Durack, star of the musical Wicked and Legally Blonde, the Western Australian Youth Orchestra, aerial dancers and stilt walkers. The Fiesta Concert Showcase will be held from 5pm to 9pm on Saturday, 22 March at Sir James Mitchell Park, Mill Point Road in South Perth.
Getting There
Walk, cycle or catch public transport to get to the Fiesta. If you are coming from the city, catch the ferry from Barrack Street Jetty to Mend Street Jetty in South Perth for a pleasant way to get to the Fiesta.

If you enjoyed this article, please share it!

Nita Teoh pens her passion for Perth at Perth Walkabout. She enjoys exploring by foot and letting readers know about the hidden gems of Perth.
To keep posted on upcoming events in Perth, follow us @PerthWalkabout