Details

Category: Great Outdoors
Published: Friday, 12 December 2008 14:09
Written by Nita Teoh
Jacob's Ladder at Kings Park - Not for the Faint Hearted!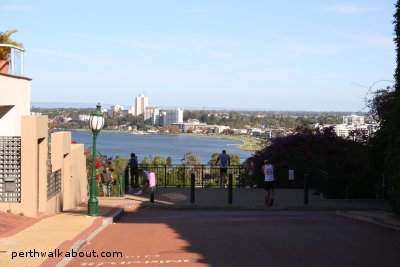 Cliff Street, start of Jacobs Ladder -
are we ready?
Jacob's Ladder is not for the faint hearted. Just short of 300 hundred steps will take you on a steep 43 metre descent from Cliff Street down to Mounts Bay Road. If you are after a good workout or are training up for a big mountain climb adventure, this is the place for you.
So the saying goes that "An apple a day keeps the doctor away." Well, the equivalent saying in relation to exercise is that "A step up and down Jacobs Ladder keeps those pounds away".
The challenge of Jacob's Ladder is to run, walk, (and eventually stagger if you are not fit!) up and down around 300 hundred steps (242 steps and counting).
Jacob's Ladder is located at the end of Cliff Street which marks the boundary of Kings Park. The descent will take you to Mounts Bay Road. It surely gets that cardio vascular system working and if you are a regular visitor to Jacobs Ladder, you will get a chance to chat to those friendly Perth locals who are doing it again every day.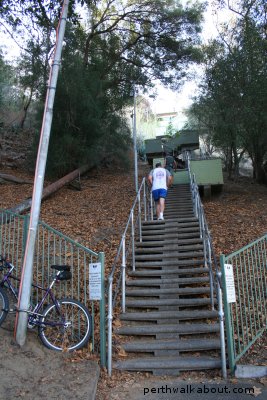 Finally made Jacobs Ladder -
let's start again!
How to get there:
If you are coming up Malcolm Road from the city, as you reach the top of the hill, take a left turn onto Cliff Street just before the roundabout (landmark to watch out for is the Edith Cowan Clock Memorial) to the main entrance to Kings Park. Jacobs Ladder is located at the end of Cliff Street.

If you are coming along Kings Park Road (heading from Subiaco), continue pass the roundabout, and just after the roundabout, turn right onto Cliff St. Jacobs Ladder is located at the end of Cliff Street.