Details

Category: Local Area Guide
Published: Wednesday, 19 December 2012 13:02
Written by Helen O'Connor
Head on up the Mitchell Freeway. Keep going. Keep going. And you'll soon find yourself heading into the sunny suburb of Mindarie.
This popular Northern suburb comes packed with great beaches, schools, local shops and some great fishing spots. Not to mention an excellent selection of local and award winning restaurants.
For many, the heart of Mindarie is its picturesque marina and this is where most visitors to Mindarie will spend their time. Mindarie Marina officially opened in 1989 and has expanded in size and popularity ever since. Consisting of a hotel, a harbour front, residential area and a pleasant water front boardwalk restaurant, bar and shopping haven. The Marina is a popular spot for young couples and families alike.
Currently offering no less than six eateries there is plenty of choice for those seeking a dinner out or just a breakfast in the sun soaked waterfront boardwalk. All of the restaurants offer a family friendly experience however; both the Dome Cafe and the Indian Ocean Brewing company specifically have the benefit of a shared enclosed play space for the little ones.
For the breakfast lovers, the Waterfront Cafe and Restaurant and the Dome Cafe seem the most popular of haunts and you'll see a regular Sunday crowd at both. If you'd like a seat outside in the sunshine, arrive early to avoid disappointment. If you like crispy bacon and a stack of yummy pancakes, my money (for some time) has been on the popular Waterfront. Check out their breakfast menu and you'll soon be piling the family into the car.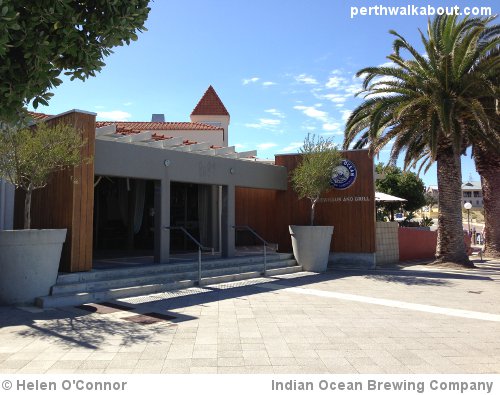 But it's not just for families. Young couples flock to the award winning Indian Ocean Brewing Company to sample its famous ales, made onsite at this micro brewery. Try the pale ale or opt for a tasting platter (of beers) and you'll not be disappointed. The food is worthy of a second glance too, especially its daily menu specials which prove particularly kind to ones' budget. A favourite for me is Tuesday's $10 pizza. Grab a couple of side dishes and you've got a meal for the family.
If you're heading for a romantic dinner, you can't fault the Waterfront Cafe and Restaurant which does a great job of showing it's not just a breakfast and lunch club and pulls off a decent ambience of an evening with tasty and quality food.

If you've got kids in tow for dinner, your best bet is to head to The Boat; particularly on a Monday – Wednesday night between 5-8pm and on a Sunday between 2-6pm when the kids' zone will be in full swing providing your youngsters with a range of activities to keep them occupied during meal time.
For those out for a Sunday stroll in the sun, you'll find a handy place to rest your feet and get some icy refreshments at the New Zealand Ice Cream Company. This is always a hit with kids and adults alike.
In addition to providing an array of places for top eats in a picturesque location, the marina hosts a number of events throughout the year that bring the populous of Mindarie together to celebrate. Top events of the year include Oktoberfest, A Toast to the Coast (beer and wine festival), regular weekend markets, New Years Eve Party and Christmas activities.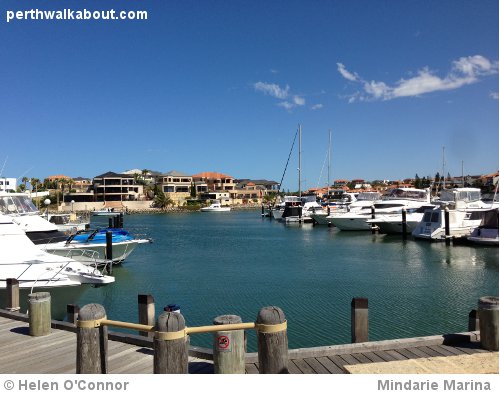 There's a great coastal walk you can take directly North from the Marina that will take you to the corner of Quinns Road, where in addition to a great sandy beach, you can also enjoy the culinary offering of both Portofinos Cafe and Portofinos Restaurant. Portofinos Cafe is a great breakfast and lunch spot that benefits from ocean views in addition to offering families the use of an enclosed play space for the kids. Portofinos Restaurant is more of an evening establishment, and whilst helpfully catering to families; really comes into its own as more of an elegant dining experience. The menu is a step (and then some) above the offerings of its neighbouring cafe. Just try the beef fillet to realise why this has very quickly become such a popular local haunt.
So if you are fancying a trip northwards, add Mindarie to your to do list, and your taste buds will thank you.
Are you a local to Mindarie? Where's your favourite place to eat out locally? What's your favourite thing that you enjoy about living in Mindarie? Here at Perth Walkabout, we'd love to hear from you and we especially love finding out about what local gems you've spotted.
For more Related Articles, please scroll to the bottom of this page.
If you enjoyed this article, please share it!