Details

Published: Thursday, 24 January 2019 14:44
Written by Greg Letts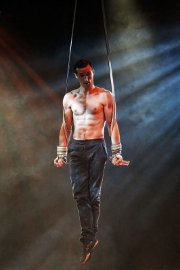 "It's not how big it is, it's what you do with it that matters" - never has that cliche been demonstrated so wickedly well as when the performers of La Soirée take to the stage.

After braving the summer rain while waiting in line at the Ice Cream Factory, we were already a little bit wet before the show even started! And in typical raunchy La Soirée fashion, it wasn't long before the audience were fully lubricated both inside and out.

The first thing that always strikes me when I first arrive at a La Soirée performance is the tiny size of the circus ring – it always seems impossible to swing a cat let alone a human being on that little red circle. But swing they do, and tumble, sway, glide, lift, throw and roll to boot.