Details

Published: Tuesday, 28 March 2017 11:58
Written by Nita Teoh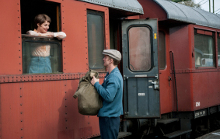 The movie "A Man called Ove" - one of Sweden's biggest locally-produced box office and nominated by the Oscars for best foreign language film will open in Perth this Thursday.
On first encounter, one gets the impression that Ove is the neighbour from hell, who rules the goings on at his apartment complex with stickler rules.
But more than meets the eye, as the story unfolds, and we discover more about Ove and his past life.