Details

Published: Wednesday, 22 May 2013 11:56
Written by Nita Teoh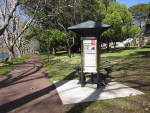 As I tend to spend a fair amount of time outdoors catching some sunshine, walking in parks, and just strolling along the foreshore, I've noticed that the Government has installed exercise machines in just about every park around Perth.

Everywhere I turn I see these machines scattered around the walking paths – Hyde Park in Perth, Bayswater recreational reserves, South Perth foreshore, East Perth, Mt Lawley, and in Perth across from the Mounts Bay Waters Apartment Hotels - you can't miss them.

So if you're looking to incorporate some exercise into your daily routine, these exercise stations are available 24 x 7.

3 comments