Details

Published: Friday, 06 April 2012 10:32
Written by Emily Cordz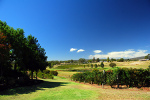 When I told my friend I was taking a gap year in Australia, her first question was, "Are you going to be WWOOFing?" To most people that question would make no sense, but I had been doing research on possible gap year experiences for almost a year and I knew exactly what she was talking about. I told her I didn't plan to, but it looked like a cool concept. I ended up inadvertently doing a similar program while living in Perth and it was a wonderful experience. But I'm getting ahead of myself.
Many people have never heard of WWOOF or have but don't quite know what it is all about.