Details

Category: Great Outdoors
Published: Saturday, 02 June 2018 07:58
Written by Nita Teoh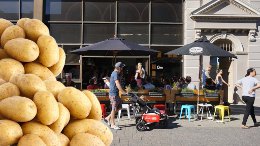 What's on in Perth over this WA Day long weekend?
It's here again - so get your walking shoes on and join a Jane's Walk.
Inspired by Jane Jacobs, it is a free citizen led walking event that is held around the same time each year in over 190 countries around the world.
Jane Jacobs was a famous urban activist whose book "The Death and Life of Great American Cities" challenged traditional urban planners of its time, and highlighted the key concepts of social capital, mixed primary uses, and "eyes on the street" in creating liveable cities.
As Jacobs remarked at the time:
"Cities have the capability of providing something for everybody, only because, and only when, they are created by everybody."
This year, there will be 3 awesome citizen led Jane's Walks around Perth – Northbridge, Victoria Park and Fremantle.