Details

Published: Wednesday, 26 October 2011 11:23
Written by Nita Teoh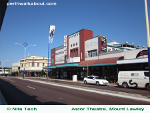 Mt Lawley is a wealthy inner city suburb located approximately 4 kilometres north of the Perth CBD. It is a grand old suburb whose heritage homes and mansions display the architecture of yesteryear, and whose avenues are tree lined with the blooms of the beautiful flowering Jacarandas during late spring. From rambling homes to pristine, manicured gardens, the suburb is only a step away from a bustling cafe strip. Its traditional grid structure makes it easy to navigate, just remember the avenues, Beaufort Street and Walcott Street, and you should be able to orientate yourself quite easily.