Details

Published: Monday, 13 May 2019 10:56
Written by Nita Teoh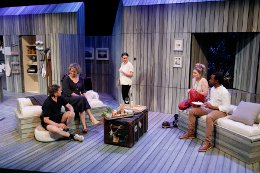 Picture a family re-union at an idyllic holiday location in Perth.
What could go wrong? And what does the future hold for all of us?
What starts out as a convivial get-together gradually unravels into a sequence of events that unearth what has really been going on in each of the characters' lives.
Ex politician Peter, a once powerful man, is celebrating his birthday with his family and the water on his island holiday home is running out.
He has had to step down because of party pressure and is in self-imposed exile at his island holiday home with his loving and supporting wife, who is awaiting the arrival of their two daughters – one having a gap year and who turns up with an uninvited stranger (Yize), and the other a successful lawyer on her way up.
It's a cracker of a play and a timely one in light of our Federal election coming up next week and important issues to decide upon.