Details

Published: Tuesday, 09 March 2021 15:46
Written by Nita Teoh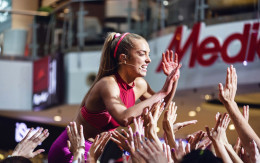 What has the world come to when success is measured by the number of followers that we have on Instagram?

Sylwia – a young and beautiful fitness motivator celeb on Instagram has 600,000 followers.

So one might be led to believe that being in the shoes of Sylwia as a social media influencer is glamorous and fun and a total blast right?

Swedish director and writer Magnus von Horn explores the topic of social media with vigour,  providing a provocative and at times hard hitting peek beneath the gloss into the pressures and challenges of being a prominent social media star.

We follow three days in the life of Sylwia – exploring her symbiotic relationship with her fans, whose adoration she needs for validation as much as they rely on her for motivation.