Details

Published: Friday, 08 February 2019 11:57
Written by admin3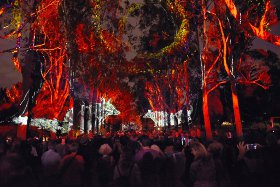 This spectacular walkthrough experience for the whole family will run over the Opening Weekend of Perth Festival commencing tonight.
Boorna Waanginy : The Trees Speak attracted over 100,000 people to Kings Park in 2017, and it is expected that it will be a very popular event again this year.
This magical and spectacular work will see Kings Park transformed into a nocturnal wonderland,  experienced through sight and sound, as the stories of the Noongar are told over six seasons of the year.
Art and technology will intersect as huge projectors will be used to change the beloved Kings Park scenery into a living canvas to showcase the changing landscape over the seasons and the biodiversity of our environment – with flowers blooming, flocks of birds descending , wetlands filling up and wild bushfires raging.
Noongar stories will be shared over 4 evenings this weekend and provide an excellent opportunity to learn about Western Australia's diverse landscape and bio diversity from both the Noongar understanding of the land and the perspective of Western science.