Details

Category: Nightlife
Published: Friday, 25 May 2012 11:57
Written by Becky Jean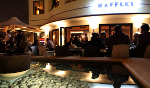 Perth is great. We both know that, and that is why you are here right now reading about all of the fantastic things that it has to offer.
So of course, I am always happy to pass on my knowledge of this wonderful City. Such as the best places to go to of an evening if you are a little like me: A 'Nearing 30 Something'.
As I near the big 'three-oh', I am finding that I am not so keen on the club scene anymore. Frankly, I'd rather be in bed, or having a nice glass of red on the couch watching 'Full House' re-runs.
That being said, I do enjoy the odd night out. Getting out of my daggy's for the evening, dressing up a little and socializing over a few drinks. However the tricky part now is finding a place that doesn't make me feel like I'm too old to be there, or like a teenager at a 50th.
So, here I will guide those who feel the same to some of my favourite bars and cocktail lounges in Perth that will make you feel just right.