Details

Category: Arts & Culture
Published: Saturday, 29 January 2022 10:23
Written by Nita Teoh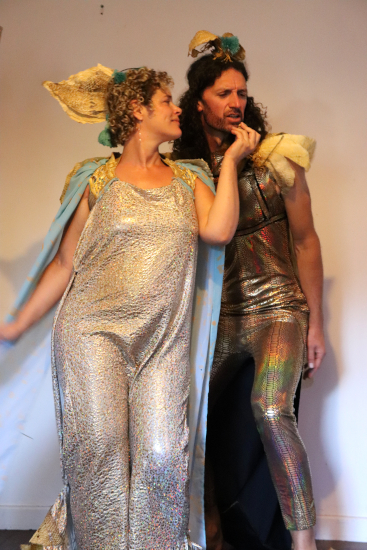 Joey Vale and Paul Rowe
Conversations with a Fish
Photo Credit: Helah Milroy

Are humans as a species really superior to fish?

Are fish more intelligent than we ever imagined?

These and many other thought provoking questions are put to the audience in Blue Room Theatre's latest production "Conversations with a Fish" as part of its Summer Series.

First Nations Director and Writer Helah Milroy puts us through a rigorous philosophical and challenging debate using fishy characters as the medium all the while questioning humanity in all its forms – the quest to seek freedom, addressing gender and equality issues, dealing with power and greed, survival of the fittest, the tyranny of the justice system and the fight for sovereignty rights.

Under the belly of some darkly comedic and very funny laugh out loud moments, Milroy takes us on a once in a lifetime journey to question our positioning on ethical and moral dilemmas – how you decide is up to you - where you end up – no one can promise.

But that's ok – it parallels our current crazy and unpredictable environment at the moment where we truly don't know where we are going.

Hats off to all the performers and the cellist on a very fun and entertaining night.

Special mention to The Admiral (David Whyatt) for getting up to speed with the play in a week. Wow!

Love the fish net stockings by the way !

And special mention to the cellist Camile Lalanne who came in at all the right moments with her dramatic chords.

So take a chance on life and turn up at The Blue Room Theatre (with your face mask of course!) to embark on an enlightening adventure which will push your boundaries.

You'll come out of this aquatic adventure with a slightly different perspective on things.

Take time out to ponder your belly and many other fishy matters surrounded by some very piscine characters in their glittery and leathery fish costumes.

"Conversations with a Fish" is on at the Blue Room Theatre till the 3rd February.

If you enjoyed this article, please share it!


To find out about the hottest events in Perth, follow us at @PerthWalkabout