Details

Published: Friday, 10 January 2020 09:22
Written by Bob Figg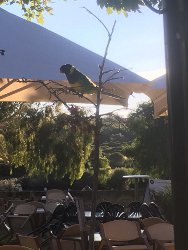 As fires raged through Yanchep National Park in December, eventually blazing their way to Two Rocks and beyond, a little dark humour was in order as residents feared the worse.
One local (in fact me) took to Facebook to assure friends around the world that while our house was safe, what was even more important was that the magnificent fire-fighters, both professional and volunteers, had saved the Yanchep Inn.
Overseas and interstate connections were especially pleased. They regularly see a Friday post from me sitting in the beer garden of the Inn, situated in the Yanchep National Park, with kangaroos, 28s and other wildlife hoping in vain for crumbs.
In a state famed for its road trips taking days or weeks, Yanchep is a (long) stone's throw from the city. Just 45 minutes north of the Perth CBD the national park features on a few day trip tour rosters too, but it is an easy drive if you hire a car.