Details

Published: Sunday, 13 October 2019 11:32
Written by Lee-Ann Khoh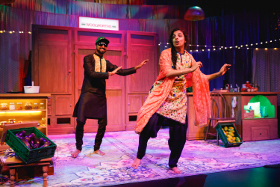 Three years after appearing on Australia's Got Talent with a powerful poem on racism, spoken word artist Sukhjit Kaur Khalsa has made her theatre debut: Fully Sikh. The "Fully Sikh" experience began pre-show outside Studio Underground – where I attempted to play carrom, an Indian tabletop game for the first time, while others got turbans tied.

When it was time for the show, we took off our shoes and were invited into the theatre. The set had been beautifully transformed into Sukhjit's childhood home, where she was preparing a meal in the kitchen.

Through her spirited, interactive performance poetry, Sukhjit told her story of growing up as a Sikh girl in suburban Perth.