Details

Published: Wednesday, 20 June 2018 12:00
Written by Greg Letts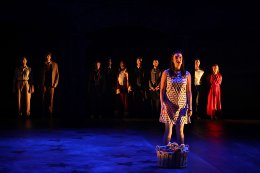 Why did they do it? is the question that people ask when discussing the latest of America's all too frequent mass shootings. In a country where the disaffected and mentally unstable have easy access to firearms, is it any surprise that some will aim their sights higher than the common public and instead target the leader of the country?
Who were they? is another common query. Stephen Sondheim's 1991 creation, Assassins, showcases the lives and explores the motives of the USA's successful and failed presidential killers. It is a disturbing juxtaposition considering that modern day America is trending towards suppressing the names of mass shooters to deny them any perceived fame or glory, erasing them from history.
Instead, in Assassins we are treated to 100 minutes of song and dance as the assassins claim that their names will be permanently etched in the American psyche. Perhaps so, but Assassins is far from a celebration of this group, exposing the grudges, derangements and self-serving excuses that led to their tragic actions. Who can say which approach is better?