Details

Category: Arts & Culture
Published: Wednesday, 09 May 2018 15:13
Written by Lee-Ann Khoh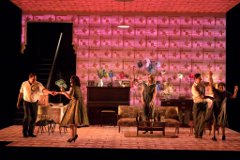 Set in the Melbourne suburb of Carlton in 1953, Summer of the Seventeenth Doll tells the story of a group of companions and their long-standing tradition.

Roo (Kelton Pell) and Barney (Jacob Allan) are two mates who work seven months a year cutting cane in Queensland before coming down to Melbourne to stay with Olive (Amy Mathews) and her mother, Emma (Vivienne Garrett).

The play takes its name from the kewpie dolls that Roo gives Olive each year – this marks the seventeenth year of their relationship.