Details

Category: Arts & Culture
Published: Tuesday, 05 February 2019 15:08
Written by Lee-Ann Khoh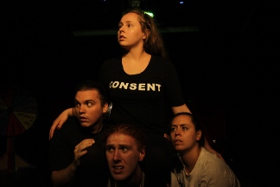 For the second night in a row, I headed to the Actors' Hub. This time, it was for Implied Consent, another of the four shows that forms part of their 4x4x4 program for this year's Fringe World. As I walked in, there were print-outs of news articles concerning rape, sexual assault, and the question of consent. Various activities had also been set up in the foyer; for example, attendees could write their stories of implied consent, then either shred them or hang them on a makeshift washing line for others to see.

As the name suggests, Implied Consent examines the grey area of implicitly-granted consent through four actors who, at various times, portray a series of nameless characters of varying genders, ages, and backgrounds. Over the course of the evening, these characters share their thoughts and tell their confronting stories, compelling the audience to think about the questions raised.