Details

Category: Arts & Culture
Published: Friday, 23 November 2018 06:19
Written by admin3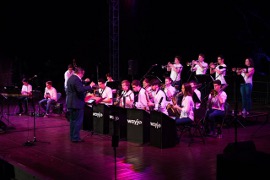 If you are looking for a night of big band jazz under the stars, then head to the Quarry Amphitheatre tonight.

Western Australia's leading jazz big band – WAYJO – will perform jazz classics by American pianist, composer and bandleader Duke Ellington plus hits from the 1960 album, The Nutcracker Suite.

The concert will feature some of Duke Ellington's favourite classics like 'Sugar Rum Cherry' and 'Dance of the Floreadores' and interpretations of The Nutcracker.