Details

Category: Arts & Culture
Published: Monday, 19 January 2015 10:50
Written by Greg Letts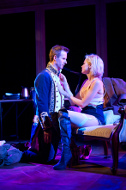 A quick scan of the synopsis for Venus in Fur will give you the gist of what is going to happen in David Ives' recent play being staged by Black Swan State Theatre Company (the advertising poster might also give you an idea or two!)

But as with many things in life, it is the journey, rather than the final destination, that is most important.

Thanks to the efforts of the cast and crew, the Venus in Fur trip is well worth taking.